Higher education is all about shaping the future. We wield immense influence on the students who come to us for guided growth and understanding, and our endless quest for knowledge helps shape the world they will inhabit.
This responsibility was in the forefront at SUNY Oswego in 2014-15 as we began implementing our new strategic plan, "Tomorrow," and went public with an ambitious philanthropic campaign that will be key in shaping the future of our college.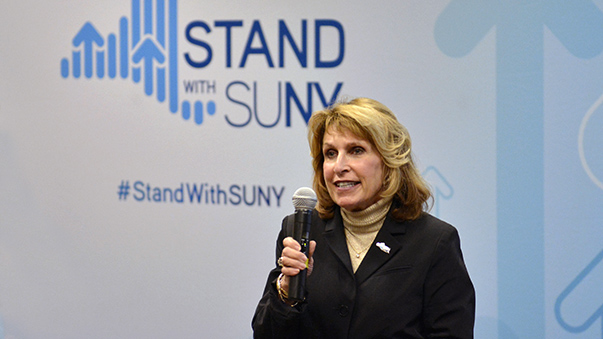 It was a year in which we expanded access to a fulfilling college education for students from a wider array of backgrounds, developed our distinctive learning opportunities, continued our campus renewal, and awarded a record number of degrees.
SUNY Oswego has never been as strong as it is today. And tomorrow holds tremendous promise — for our college and the students we serve. I invite you to share in our pride as you review this report.
Deborah F. Stanley
President